London riots: Clapham Junction message boards saved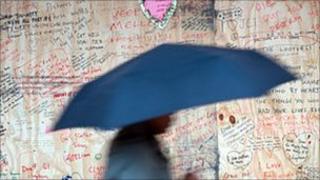 Words of goodwill and defiance written on wooden hoardings covering a store targeted by rioters in south London are to be preserved for posterity.
The messages appeared outside Debenhams in Clapham Junction after the shop was raided by looters on 8 August.
Debenhams said the boards would act as a reminder of the positive community spirit that emerged after the riots.
Neil Roberts, manager of the store, said the boards had been transformed into a "testament for our times".
Trouble started in Tottenham, north London, on 6 August following a peaceful protest over the fatal police shooting of Mark Duggan.
'Strength of character'
Over the following days riots and looting spread across England.
Messages on the boards in Clapham included "We have taken Clapham back", "The rioters won't stop our community" and "Clapham, we love you. Get well soon".
Debenhams has taken down the boards but hopes to display them somewhere prominent for people to view them.
Mr Roberts said: "The generosity of the people of Clapham and Battersea has transformed plain pieces of wood into a testament for our times.
'Times of adversity'
"Their words of support are proof that, in times of adversity, Londoners still have the strength of character to stand up and offer a helping hand."
The Metropolitan Police has arrested 1,920 people over the disorder and charged 1,098.
The Met has also said it had not directed its officers to hold all people arrested over the disorder in custody.
A spokesman for the force said: "Contrary to reports, at no point does the guidance issued to officers suggest that all persons arrested should be held in custody, nor that cautions or other disposals are inappropriate in relation to Operation Withern [the codename for the Met investigation into the disorder].
"Where the threshold to charge was not met 623 people have been bailed to return pending further inquiries, 125 were released with no further action or - in a small number of cases - dealt with by other police disposals including 17 people who were cautioned."
The Met has also released a further 14 images of people they would like to speak to in relation to the disorder, which can be viewed at www.met.police.uk/disordersuspects/