Notting Hill Carnival: A tale of two residents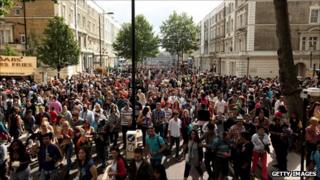 Imagine a two-day street party with one million people and dozens of sound systems on your doorstep. That is the reality for residents of Notting Hill every summer.
Even the co-director of the carnival, Christopher Boothman, admits that local residents are the "most aggrieved about carnival because people turn up and create nuisance".
This year is especially contentious because of the recent riots but Mr Boothman said he has been "surprised" by the amount of support from residents.
But Dorothy Bell and Cat Donohoe are neighbours who live in the heart of the carnival's parade route and have very different attitudes to Europe's largest street festival.
Dorothy Bell
I've lived here for 26 years and carnival was not such a big thing in those early days.
It started to get bad about 15 years ago. There is no escaping the noise and it has gradually got worse with the sound systems they dot everywhere.
The floats go past and sometimes it's a lorry with a sound system and the whole house shakes. The sash windows rattle. It seems to go on for hours and hours. It's like a siege.
One year I had been out for dinner with friends on the Monday evening and I attempted to get back home at about 11pm. There was madness and crowds everywhere. It just seemed dark and frightening.
I went off down a side road and saw a lot of police. I went to walk towards them to say 'How can I get around to where I live?' and two police officers came towards me and started shoving me around because it was a murder scene.
You go through the back streets, which have loads of people and loads of mess. You are climbing over all this debris. People are urinating and doing worse up against doorways, windows or gardens. It was my idea of hell.
I am especially anxious this year because of the riots. I think if the carnival had been cancelled then it would have caused even more trouble. You can't win.
If it was just Carnival with nice costumes, steel bands and everybody was happy, which most people are, then it would be fine but you have this element with the thugs.
Notting Hill returns back to normal in a few days but it depends on how many stabbings or murders you have. They say if there's only one murder and half a dozen stabbings then it has been a good carnival.
Cat Donohoe
Before I moved to London from York, I had always talked about going to the carnival but I had never got around to it.
I had forgotten about it when I moved here three years ago and then it got to summer and I thought, 'Wow! I'm in the centre of it'.
I had heard a lot of horror stories, that I would get no sleep, it would be really dirty and there's loads of crime.
On the first day I slept in until midday and didn't hear a thing.
It was really peaceful. I saw nothing bad happening. Everyone was just having fun in their own way, everyone was drinking and there was loads of food.
It's good to wander around because there are loads of different music stands in different areas and they all have slightly different vibes.
It is strange at night though. The Sunday night is fine because most people are still in the mood for carnival. Monday night is always a bit worse.
One year on Monday night, we went to this late night pub. When we got to Ladbroke Grove it was like a post-apocalyptic movie. There was rubbish everywhere and there were lines of police and people just standing around looking as if they didn't know what to do or where to go.
However, by the time we were walking up the road, rubbish pickers were already out en-masse collecting the rubbish. By the time you wake up on Tuesday it is all gone.
It would have been really sad if they had cancelled the carnival because of the riots.
People work all year round on the costumes and I've been listening to people practising their drumming at a community centre nearby. It would have been a real shame for everyone involved to cancel it.
I never go to music festivals because they are really expensive and you need to gather enough friends to go with. I feel that Notting Hill is a music carnival that's free and everyone is invited.
This is definitely one of the highlights of my summer.