Learco Chindamo robbery trial jurors consider verdicts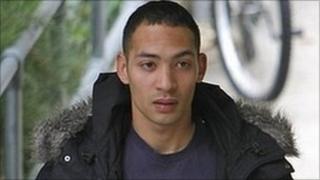 Jurors in the case of Learco Chindamo - the man who killed headmaster Philip Lawrence - have retired to consider their verdicts in his robbery trial.
Prosecutors claim Chindamo, 31, bragged about his conviction to intimidate David Sexton into handing over money in Camden, north London, last November.
But the defence said Mr Sexton had branded Chindamo a "killer", "mocking" him and his two friends.
Chindamo, Gregory Jananto and Saeed Akhtar, both 32, all deny robbery.
Blackfriars Crown Court has heard a row broke out near a Sainsbury's supermarket in Chalk Farm Road.
Prosecutors claim Chindamo, of no fixed address, asked Mr Sexton: "Do you know who I am?" and "Do you remember about the head teacher in Maida Vale?"
'Smirk on face'
It is also alleged he falsely told Mr Sexton his co-defendant Mr Jananto, of Percy Road, Shepherd's Bush, west London, had stabbed a witness in the 1996 murder trial.
Jurors were told members of the public do approach Chindamo over the killing of Philip Lawrence.
The defence claim Mr Sexton branded Chindamo a "killer" and mocked him, Mr Jananto and Mr Akhtar, of Chalton Street, King's Cross, north London, as they stood by a cash machine.
"The way that he came across and the way that he said 'killer', he had a smirk on his face and it was like he was mocking us," Mr Jananto told the court.
"Learco got quite upset by it," he said.
"I was very agitated and I was pacing around and I was trying to get close to him and I had a bottle in my hand ... I just wanted him to leave."
It is claimed Mr Sexton handed over £10 so Chindamo could buy a drink following the row.
In 1996 Chindamo was ordered to serve at least 12 years in jail for fatally stabbing Mr Lawrence, 48, outside the gates of a school in Maida Vale, north-west London.
He was freed in July 2010.