Jail for men who raped student and filmed attack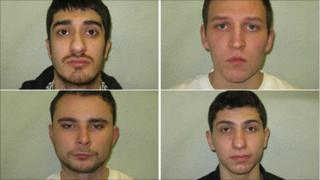 Four men have been jailed for raping a fellow student from their south-east London college.
Norayr Davtyan, Gregory Melnikov, Armen Simonyan and Oleg Ivanov filmed the assault and showed the footage to friends, Woolwich Crown Court heard.
The men celebrated the rape like "professional footballers celebrating the scoring of a goal", the judge said.
Their victim, an 18-year-old woman, was intoxicated and had vomited just before the attack in January, the jury heard.
Davtyan, 22, an Armenian national, was sentenced to 10 years for two counts of rape, while Melnikov, 23, a Russian national, was jailed for nine years for one count of rape and one of attempted rape.
Dorm party
Simonyan, 19, and Ivanov, 23, also both Russian nationals, each received eight years for one count of rape.
Judge Peter Murphy said all of the men had shown a "callous disregard" for the victim, treating her as an object.
All four defendants and the victim were at the same college at the time of the attack.
Water polo player Davtyan was having a party in his dorm, which the girl attended, the court heard.
He threatened the victim after her ordeal, saying she would be the one to suffer more shame if she reported the rape.
'Feelings of worthlessness'
Judge Murphy said the "pornographic" iPhone footage showed offences of a "callous and disgusting nature".
He told the court that, in his view, the victim was heard to utter the word "no" on a number of occasions.
"Whatever the case of her condition, it is clear, as I think it must have been to the defendants, that she was in no position to decide whether to consent or not to consent or to resist what was going on."
The judge added that the men had celebrated the attack, which was carried out over a number of hours, "almost in the manner of professional footballers celebrating the scoring of a goal".
Their victim suffered "depression and feelings of worthlessness" in the wake of the horrifying assault, which happened only days after the men had arrived in the UK from Russia, the judge said.
Det Con Peter Thompson paid tribute to the victim, whom he said had showed great "bravery and courage".
"This was a long and difficult trial lasting some eight weeks.
"The defendants denied the offence throughout but their lies have been uncovered and the correct decision has been reached.
"It is reassuring to know that these men will be locked up for many years to come."