London riots: Tenants sent eviction warning letters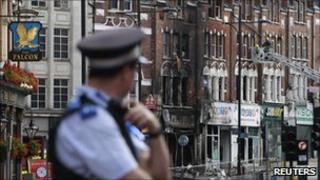 Dozens of letters have been sent to council tenants in south London warning they could face eviction if convicted over recent rioting in the city.
Southwark Council has written to 35 tenants where they or a member of their household have been charged over the disorder earlier this month.
It said anyone convicted of riot-related offences would be in breach of their tenancy agreement.
The council said any application to evict would be considered case by case.
Trouble first flared in Tottenham, north London, on 6 August following a peaceful protest over the fatal police shooting of Mark Duggan.
'Inexcusable acts'
Over the following days riots and looting spread across England.
More than 120 businesses in Southwark were targeted during the widespread disorder, with Walworth Road and Rye Lane in Peckham badly hit.
Earlier this month, Prime Minister David Cameron said people who "loot and pillage their own community" should be evicted from council houses.
Southwark councillor Ian Wingfield said: "The vast majority of our social housing tenants are hard-working and law-abiding people who respect their neighbours and local communities.
"Unfortunately, a minority were involved in the riots and inexcusable acts of violence and looting on our streets.
"We want to send a clear message to these individuals that if they are convicted there are serious consequences to their actions, which for some could result in their eventual eviction."
But MP for Rother Valley, Kevin Barrow, said evicting people would not solve the problem.
"Removing people for unacceptable behaviour from social houses, for them to be put into other communities and taking that unacceptable behaviour with them, does not solve the problems," he said.
'Riot tourism'
The council said it had begun carrying out face-to-face visits to those identified as part of this process to ensure any possible enforcement action, if applied at all, was proportionate.
Wandsworth Council in south London was the first council to serve an eviction notice over the riots.
It is believed many people who got involved in the riots and disorder travelled some distance to do so.
In response to this, Community Secretary Eric Pickles said he was planning a 12-week consultation on whether powers should be extended to allow councils to punish those convicted of what he called "riot tourism" in other areas.