Riot hit London business to get £3m aid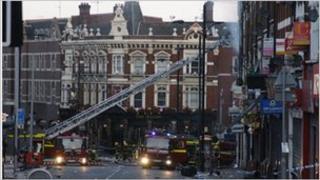 A £3m fund has been launched to help firms hit by riots and looting which devastated parts of London this month.
A coalition of businesses announced a High Street Fund offering cash support to smaller firms affected.
Firms including BP, Capita, RBS and Santander will contribute to the fund. London Mayor Boris Johnson's office will put £500,000 towards the fund.
The Metropolitan Police said there had been 1,952 arrests and 1,115 charges in connection to the riots.
'Real help'
Prime Minister David Cameron said: "The High Street Fund is a great example of British business putting something back."
London Mayor Boris Johnson said: "It is no secret that many high streets in the capital are still suffering as a result of the appalling events earlier this month.
"Small businesses need urgent help to repair damage and get goods back on the shelves and the High Street Fund will help to do just that."
High Street Fund chairman Sir William Castell said: "This fund is about providing real help to businesses who need help now."