Pentonville Prison conditions and inmate drug use criticised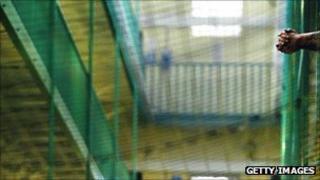 Pentonville jail in north London is "overcrowded and physically decaying", with most prisoners living in "grimly depressing conditions", a report says.
Random tests also found 15% of inmates had taken drugs, the jail's independent monitoring board added.
And it warned the high number of new arrivals each weekday could "compromise" prisoners' well-being.
The Prisons Service said it took the illicit use of drugs and the problems they caused, "incredibly seriously".
The jail's board said most of Pentonville's inmates "live and eat with another prisoner, sharing a bleak cell - with an open lavatory - designed in 1842 by the Victorians for one occupant".
"Because of the limited resources, in terms of education and industrial training, much of prisoners' time is spent unconstructively and in grimly depressing conditions; about half the population is unemployed."
'Determined efforts'
The number of inmates using drugs did not seem to be falling, the board added, with 20% being prescribed methadone to treat their dependence on substances.
And so many new arrivals were processed each evening that assessments of their physical and mental heath, as well as their safety when sharing cells, could be jeopardised, it added.
The report acknowledged the jail's conditions were improving and said it had reached "good performance", or level 3, status with the National Offender Management Service for the first time in seven years.
It also observed "determined efforts" to lower corruption and the number of items smuggled behind bars.
The Prisons Service said it was "working hard to keep contraband out of prison, using a range of security measures to reduce drug supply, including working closely with police forces and carrying out random mandatory drug tests".