Man arrested over skeletal remains found in Peckham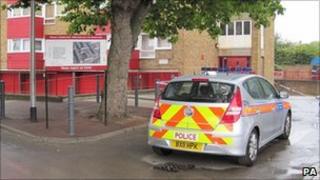 A man in his 70s has been arrested after skeletal remains were found in bushes in south London.
The body of a man, believed to be in his 80s, was found by a dog walker in Lovelinch Close, Peckham, on 10 August.
The 5ft 4in tall man, who is yet to be identified, was white with a long grey beard and police believe he may have died at least six months ago.
The pensioner was arrested after police found further human remains on Tuesday at an address close to the scene.
He was later released on bail.
Police said they were treating the death as unexplained and suspicious.
World Cup shirt
Council staff had called police to a property in Ilderton Road after finding what was believed to be human remains.
The Metropolitan Police confirmed that the remains found at the address were linked to the body found earlier this month in Lovelinch Close, about 400m (437 yards) away from the property.
The dead man was found wearing dark-coloured trousers and a light T-shirt which had England 2002 World Cup Champion on the left of the chest and a St George's Cross on the back.
A post-mortem examination was inconclusive about the cause of the death and further tests are taking place.
Appealing for witnesses, Det Ch Insp Damian Allain said: "We believe his remains were placed in Lovelinch Close between 2pm on Friday 5 August and the early hours of Wednesday 10 August as a tree surgeon had pruned trees at the location between 1pm and 2pm on Friday 5 August and wood chippings were underneath the body when it was discovered early in the morning of 10 August."