South Kensington Tube station revamp plan unveiled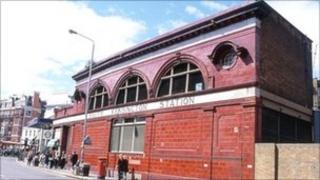 Plans to add two lifts and expand the ticket hall at a Tube station near many popular museums have been unveiled by Transport for London (TfL).
South Kensington, which opened in 1868, has no step-free access and is often congested because of the number of visitors to attractions such as the Natural History Museum and the V&A.
A six-week public consultation on the proposals has begun in west London.
The listed shopfronts and arcade above the platforms would remain, TfL said.
There will also be no change to the deep red colour of the building's exterior, it confirmed.
One lift would run between a new entrance on Thurloe Street and the larger ticket hall, while the other would connect this hall with the Circle and District Line platforms.
The "narrow" staircase running to these platforms would also be replaced with a bigger passageway.
TfL said the scheme did not allow for step-free access to the deeper Piccadilly Line, but this was a possibility in future.
A public meeting will be held on the plans at Kensington Town Hall on 21 September and the consultation closes on 7 October.