Half of London shopkeepers aware of illegal tobacco sales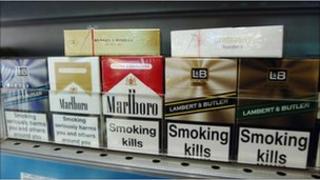 Half of London's corner shopkeepers are aware of smuggled and counterfeit tobacco being sold in their area, a survey has found.
The Tobacco Retailers Alliance asked 1,062 UK retailers their knowledge of the sale of smuggled and counterfeit tobacco and its supply to under 18s.
The survey also revealed that 54% of London respondents were aware of adults legally buying tobacco for under 18s.
Some 15% of retailers were aware of smugglers supplying teenage smokers.
Black market
Shopkeeper Debbie Corris, the south east spokeswoman for the Tobacco Retailers Alliance, said it was "shocking" that so many smugglers were supplying the underage with tobacco.
The Alliance estimates that the black market in smuggled and counterfeit tobacco already causes a loss to the Treasury of £8.2m each day and deprives legitimate businesses of trade.
"In this economic climate, it's understandable there's a temptation to buy tobacco from smugglers who charge half what I charge," added Ms Corris.
"Smokers need to know that if it sounds too good to be true, it probably is. If you buy from smugglers, you don't know what you're going to get."