Thames Water urged to compensate passengers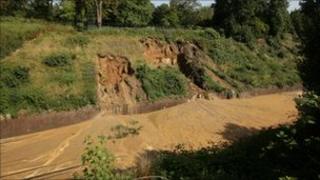 Thames Water has been urged to compensate to thousands of rail passengers hit by travel chaos because of a burst water main in south Croydon.
Services between London and Gatwick Airport were disrupted when the burst main caused a landslide.
The company denied liability when London Assembly member Caroline Pidgeon asked about compensation.
Now Ms Pidgeon has urged the company to accept responsibility for the situation on 1 August.
Passengers of Southern, Gatwick Express and First Capital Connect spent hundreds of pounds on taxis to get home or catch flights from Gatwick.
Ms Pidgeon, leader of the Liberal Democrat London Assembly Group, wrote to Thames Water asking whether the company was planning to provide compensation to rail passengers who were hit by the disruption.
'Not liable'
Bob Collington, Thames Water's director of asset management, suggested that any claims for loss of rail services should be directed at Network Rail.
Mr Collington defended his company, saying engineers had worked "tirelessly" to repair the burst water main in the quickest possible time.
He said: "Whilst I sympathise for the situation passengers have found themselves in, I must inform you that we are not liable for any costs that have been incurred."
Ms Pidgeon, who is also chair of the London Assembly's transport committee, said: "Thames Water should stop playing legal games and accept that they were responsible for the havoc faced by thousands of passengers.
"As a direct result of their water burst many people had to take expensive taxi journeys to simply get home or to travel to Gatwick Airport."
She said that Thames Water must offer compensation to Network Rail and the train operating companies.
"They in turn should offer compensation to their passengers who faced disruption and often personal cost when travelling on 1 August," she added.