Stockwell school worker sacked for looting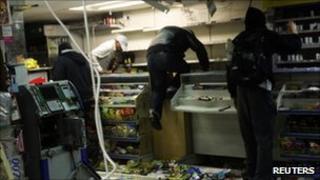 A south London primary school worker who admitted looting during last month's riots has been sacked.
Alexis Bailey, 31, who was arrested in a Richer Sounds electrical goods store in Croydon on 8 August, is awaiting sentencing after pleading guilty to burglary with intent to steal.
His employer, Lambeth Council, said his behaviour was "incompatible" with the standards it expected.
Mr Bailey, of Battersea, was a learning mentor at Stockwell Primary School.
'Despicable acts'
A Lambeth Council spokesman said: "Following a disciplinary hearing we can confirm that Alexis Bailey has been dismissed as a learning mentor at Stockwell Primary School.
"His behaviour was found to be incompatible with the standards we expect from people who hold a position of responsibility in our schools to work with children.
"Those who took part in these despicable acts of hooliganism and violence should face the full force of the law.
"We stand shoulder to shoulder with the police to help identify and prosecute each and every one of these mindless criminals so they can be brought to justice as quickly as possible."
Bailey appeared at Highbury Magistrates' Court on 10 August, where his case was committed to Wood Green Crown Court for sentencing.