Private funeral for Tottenham shooting victim Mark Duggan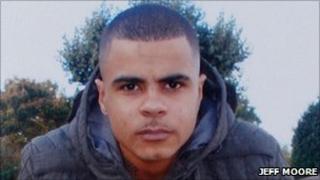 The funeral of man shot dead by police officers in north London will take place next week.
A protest after Mark Duggan's death in Tottenham on 4 August triggered the first of four nights of riots that spread from the capital across England.
A private funeral will be held on 9 September before a reception at the Broadwater Farm Community Centre.
His death is being investigated by the Independent Police Complaints Commission.
Initial reports that 29-year-old Mr Duggan shot at police were dismissed by ballistic tests, which found that a bullet which lodged itself in one officer's radio was police issue.
Mr Duggan was a passenger in a minicab which was apparently stopped by police near Tottenham Hale Tube station.
A non-police issue handgun, converted from a blank-firing pistol to one that shoots live rounds, was recovered close to the scene of his death.
An inquest into Mr Duggan's death, which opened at North London Coroner's Court in High Barnet, heard the father-of-four died from a single gunshot wound to the chest.