Women jailed over abuse of girl, 16, in south London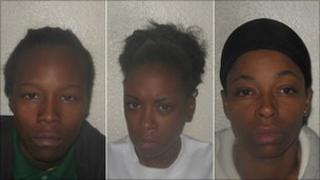 Three women have been jailed for subjecting a girl to hours of "abuse and humiliation" in south London.
Jurors heard how the victim, 16, was locked in a cupboard, beaten and forced to remove her clothes in August 2010.
Victoria Beckford, 27, Siobhan Vaughan, 29, and Sian Roberts, 24, were found guilty of false imprisonment at Inner London Crown Court in July.
Beckford and Vaughan were also found guilty of making an indecent photograph of a child.
Beckford, of Hawke Road, Gypsy Hill and Vaughan, of Menlo Gardens, Croydon, were each jailed for four years. Roberts, of Churchdown Road, Bromley, received a two-and-a-half-year sentence.
Two teenage males who were convicted of false imprisonment for their roles in the abuse were also sentenced.
Eighteen-year-old Daniello Johnson, of no fixed abode, and Antonio Williams, 19, of London Road, Thornton Heath, were both detained for four years in a young offenders institution.
'String of lies'
Another defendant, Sherelle Quarshie, was discharged, while proceedings against another suspect, Nyella Jackson, were dropped before the trial.
The court had heard how the victim was visiting a friend at a mother-and-baby hostel in Ferndale Road, Brixton, when her ordeal began on 14 August 2010.
Johnson tied up the teenager and locked her in a cupboard before letting her out and beating her with a belt.
Roberts, Vaughan and Beckford then drove the victim to a car park in Crystal Palace Park where they demanded she remove all of her clothes, jurors were told.
Beckford and Vaughan used their mobile phones to take pictures.
It was alleged that the victim owed Roberts £100 and this was the reason for the attack.
Speaking after sentencing on Friday, PC Andrew Birks, from Lambeth CID, said: "This is a horrific case where the victim was subjected to hours of abuse, assault and humiliation by five defendants who when arrested told police a string of lies to try and conceal their involvement.
"Through the bravery of that child, the jury has been able to recognise the truth behind the events of that day and to reach the verdicts that they have."