Classes cancelled after Stratford school fire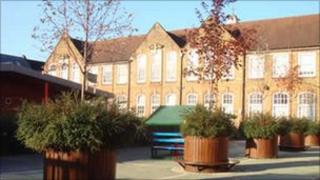 A primary school in east London was damaged by a fire which broke out in its roof, London Fire Brigade said.
Flames took hold at Gainsborough Primary School in Gainsborough Road, Stratford, at about 10:00 BST on Saturday.
It took about 30 firefighters two hours to bring the fire under control.
A Newham Council spokesman said it was expected that lessons would be cancelled on Monday but the school would partially reopen on Tuesday.
The spokesman said: "Staff have been doing a magnificent job getting the school back to normal.
"The school will be be keeping parents updated about arrangements."
The cause of the fire is under investigation.