Met deploy 1,000 officers on London school routes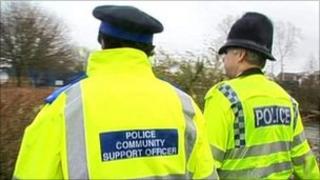 Scotland Yard is deploying around 1,000 police and community support officers to prevent pupils from being robbed on their way to and from school this term.
The officers will be visible outside London schools, near Tube stations and on buses until half-term on 21 October.
The Met said more than a third of the 15,766 people robbed between April and August this year were aged 10 to 19.
Assistant Commissioner Ian McPherson said tackling the crime was a "key priority" for police.
"We take street crime very seriously - being robbed can be a traumatic experience, and so tackling it is a key priority for us," he said.
"We are doing everything we can through enforcement, education and prevention to address it."
Smartphones and jewellery
Asst Comm McPherson urged people to take precautions to minimise the risk of being robbed such as keeping valuables out of sight.
Police said as the price of gold increased, there had been an increase in jewellery theft and street criminals were also increasingly targeting smartphones and digital media players, with 8,200 mobile phones reported stolen.
"Many robberies happen when people check their phones just after leaving a train or underground station, or when they are going about their business and may be distracted," Mr McPherson said.
This time of year had previously seen an increase in the number of 11 to 16 year-olds whose phones were stolen after school.
Bloodstained necklaces
In August, Cash Converters signed an agreement with Scotland Yard to share information about gold and suspicious goods brought into its stores.
Police said there had been incidences of bloodstained necklaces in some pawnshops.
Officers advised there were other measures people could take to protect their property, and applications can be downloaded enabling police to track stolen smartphones.
Children are also being urged to keep a record of their phone's IMEI number [unique reference number].
This can be found by typing *#06# on a phone, with the 15-digit number then being registered at www.immobilise.com.
Mr McPherson said street crime was still lower than in previous years and with seven million residents and one million visitors to London every day "the likelihood of being robbed in the capital is tens of thousands to one".