Barnet FC blasts council on Copthall stadium plans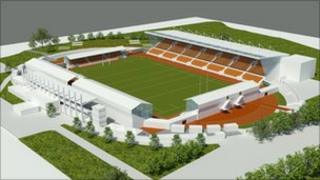 The chairman of Barnet Football Club has criticised the borough over plans for the redevelopment of a stadium.
Tony Kleanthous said Barnet Council had made it impossible for the League Two side to move to the Copthall stadium in north London.
He said Barnet Council wanted to "push football out and move rugby in". The council dismissed the claim.
Saracens rugby club has submitted plans to transform Copthall into a multi-purpose sports facility.
Barnet FC said it had been in discussions with the council about its plans for Copthall stadium and had an application ready to be presented to the planning committee.
The football club now says that Barnet Council had "secretly agreed" to allow Saracens to move there all along.
"Despite Barnet FC having more than 120 years of history as a community club in the area, they seem to want to clear us away," said Mr Kleanthous.
Responding to Barnet FC's claims, Councillor Richard Cornelius, Leader of Barnet Council, simply said: "Rubbish."
New ground
Barnet FC has been trying to leave its current Underhill home for a decade and the Copthall venue has long been its preferred choice.
The football club's plan for a new stadium at Copthall was approved by the council in 2001, but was rejected by then Deputy Prime Minister John Prescott.
The council has since offered Barnet FC a renewed 125-year lease on the Underhill site for £200,000 but the club says there are outstanding issues such as access and car parking.
Saracens plans to redevelop Copthall athletics stadium into a community sports facility with a 10,000 capacity and removable stands on three sides.