Lawrence Webb unveiled as UKIP's mayoral candidate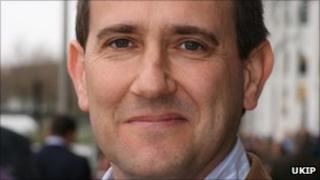 The UK Independence Party (UKIP) has announced its candidate for the London Mayoral elections next year.
Lawrence Webb, 44, was selected ahead of five other candidates.
Mr Webb will face the Conservative incumbent Boris Johnson, Labour's Ken Livingstone, Brian Paddick of the Liberal Democrats and the Green Party's Jenny Jones.
The election will be held on 3 May 2012.
Mr Webb, a former UKIP London Chairman, is a former electrician and also served in the Territorial Army for eight years.
He said: "With the ongoing Euro debt crisis and the negative impact of EU legislation on London jobs there has never been a better time for UKIP and I look forward to achieving real success in London in 2012."
UKIP and Mr Webb said they would campaign on restoring law and order in the wake of this summer's riots and on putting Londoners first for jobs and housing.
Mr Webb's candidacy will be officially launched at the UKIP Annual Conference in Eastbourne later this week.
UKIP said Mr Webb got 42% of the vote, David Coburn came second with 29%, and Winston McKenzie & Mick McGough came joint-third each with 7.4%.