EDL leader Stephen Lennon remanded for bail breach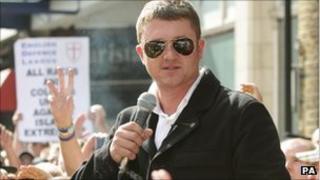 The leader of the English Defence League (EDL) has been remanded in custody after breaching his bail.
Stephen Lennon appeared at Luton and South Bedfordshire Magistrates' Court after attending an EDL demonstration in London on Saturday.
At the protest, in Aldgate, east London, the 28-year-old told supporters he was breaching his bail by appearing.
He was on bail for an alleged assault during a demonstration in Blackburn in April.
A total of 61 people were arrested in connection with Saturday's EDL protest in London, with 46 bailed to return to a north London police station in November.
Seven people were charged with offences including assaulting officers and public order offences, and a number were released.
The EDL told Scotland Yard it planned a "static demonstration" following a 30-day ban imposed by Home Secretary Theresa May on marching in six London areas.
Police estimated 1,000 EDL supporters and 1,500 counter-protesters had gathered.