Cable thieves cause London Bridge trains disruption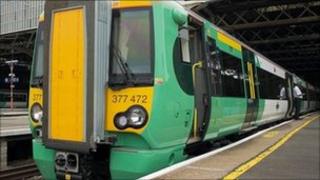 Thousands of commuters are suffering delays after signal cable was stolen near one of London's busiest stations.
About 9m (30ft) of cable was ripped out in the early hours near Millwall's football ground in south-east London.
Network Rail said the theft would cause severe disruption all day on Southern and First Capital Connect trains to and from London Bridge station.
British Transport Police (BTP) are investigating the theft, which was reported at 02:48 BST.
A BTP spokesman said: "Officers are currently making enquiries into the incident and would particularly like to speak to anyone who was in the area around the time of the incident.
"What thieves don't realise is that they are working on live cable, carrying up to 25,000 volts, which can cause extensive burns. By attempting to steal it they are seriously putting their lives at risk."
'Worst morning'
Network Rail said cables replacing those stolen this morning would have to be reconnected and each of the individual cores tested before signalling could safely be restored.
The firm's operations chief Robin Gisby said: "Yet again mindless thieves have caused delays and disruption for thousands of commuters, this time in the capital.
"Cable theft has cost the rail industry more than £40m over the last three years, which is money we would otherwise spend on our rail network."
Several teams of engineers are fitting replacement cables and carrying out testing.
A second cable theft of the night took place at Littlehampton, causing delays across a large part of Sussex.
Other rail and London Tube services were also hit by delays in the morning because of a variety of problems, including late-finishing engineering work.
A spokesman for the Association of Train Operating Companies (Atoc) said: "We understand passengers' frustration when their journey is disrupted and apologise to anyone who has been delayed as a result of cable theft."
Crimestoppers is offering a reward of up to £1,000 for information which leads to the arrest and conviction of any cable thieves.