Metropolitan Police chief questions 'feral' comment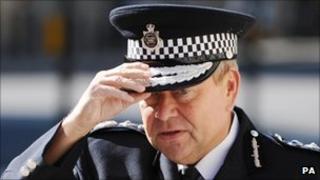 The acting Metropolitan Police commissioner has questioned the justice secretary's description of those blamed for riots as a "feral underclass".
Tim Godwin said it was not a phrase he would use, adding that it was first used in 2000 following the death of Damilola Taylor.
Questioned by the London Assembly, he said morale in the force was high.
And he said the policing of next year's Olympic Games would be better as a result of the experience.
Appearing at City Hall and asked by the London Assembly how politicians could help, Mr Godwin called for assistance to empower disadvantaged communities.
Fear of crime
Referring to the comments by Kenneth Clarke, made in an article in the Guardian newspaper, Mr Godwin added: "I would not use [that term] myself.
"The use of the term feral was first used in about 2000 following the death of Damilola Taylor."
Mr Godwin said there had "got to be a big debate in London in terms of how we empower local communities".
When pressed further about Mr Clarke's comments, he added: "It's a term I would not personally use but I think we do need to understand the level of fear of crime that actually encourages them to join gangs."
Mr Godwin said the force would do everything in its powers to avoid a repeat of the widespread disorder.
He added: "In terms of the future we will make sure that we over-egg the pudding in terms of numbers."
He said morale was as strong as it ever had been at the Met and the operation at the Olympics "will be better as a result of the experience we have had".
"It is a very positive outcome in terms of working together," he added.
On Tuesday, Mr Godwin was questioned by MPs about the riots in London.
He is vying with the likes of Stephen House, Bernard Hogan-Howe and Sir Hugh Orde for the commissioner's job on a permanent basis.
The appointment will be announced on Monday.
Windscreens smashed
The committee also heard that some of the rioters turned up at fire stations to prevent firefighters from leaving when called out.
London Fire Brigade Commissioner Ron Dobson told the committee: "Not only were the police trying to protect firefighters when they got to incidents... but they were actually on occasions trying to allow the firefighters leave the station."
In a statement, London Fire and Emergency Planning Authority Chair Brian Coleman said nine fire engines had their windscreens smashed and three senior officers' cars were attacked.
But he said no firefighter was seriously injured on duty during the disturbances.
"All members will be horrified that firefighters needed the protection of the police to be able to carry out their work to protect lives and property," said Mr Coleman.