London 2012: Host boroughs to get more Olympics tickets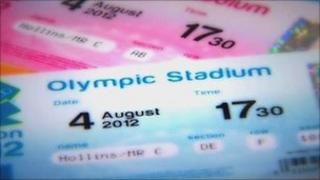 The six London Olympics host boroughs were told they could each apply for a further 100 highly sought-after 2012 tickets, it has been revealed.
These tickets were in addition to the 100 tickets the boroughs, which will stage most of next year's Games events, had already purchased.
The tickets were released in February but it is unknown how many were bought.
A London 2012 spokesman said: "There have been some returns from boroughs not taking up their allocation."
The tickets were not from the allocation for the public and the spokesman continued: "A decision has been made to go back to the six host boroughs, who all took up their initial allocation, and make available to them a further 100 tickets.
"It is entirely up to the boroughs as to how these tickets are distributed."
London 2012 said it did not have a figure for how much the tickets were worth.
The six official Olympics boroughs are Hackney, Newham, Barking and Dagenham, Greenwich, Tower Hamlets and Waltham Forest.
Some 3.5m tickets have so far been sold to 850,000 people, according to London 2012 and further tickets will become available next year.
Tickets for the Paralympics go on sale on Friday using the same system as was used for the Olympics.
Members of the public will have a three-week window in which to apply and any over-subscribed events will again go to a ballot.