Wandsworth Prison gun murder: Four deny charges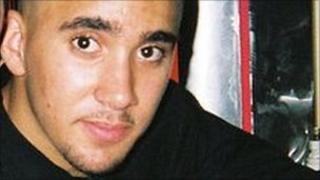 A man was shot dead outside a London prison in a crime of "breathtaking audacity", the Old Bailey has heard.
Darcy Austin-Bruce, 20, was visiting an inmate at Wandsworth Prison in south London on 1 May 2009.
Crispin Aylett QC, prosecuting, said the killer was wearing a smart suit as if he was a lawyer visiting a client.
Rupert Ross, 30, Leon de St Aubin, 34, Khori Hines, 34, all from Fulham, and Casper Smith, 30, from Shepherds Bush, all deny murder.
Mr Aylett said the gunman, who was wearing a crash helmet, escaped on a stolen moped ridden by an accomplice.
He claimed that Mr Ross was the gunman and Mr de St Aubin was the getaway rider.
Mr Aylett said that in a "hideous postscript" a friend of three of the defendants, Anthony Otton, was gunned down at a flat in Fulham on the same night as Mr Austin-Bruce's funeral wake.
Mr Aylett said Mr Ross, Mr de St Aubin and Mr Austin-Bruce had been friends and were involved in drug dealing but they had fallen out.
He said there was evidence Mr Austin-Bruce had fired shots at a car containing Mr Ross and Mr de St Aubin at Eel Brook Common in Hammersmith a few days before the murder.
The trial continues.