More than 20 jobseekers per vacancy in parts of London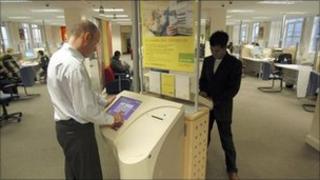 There are more than 20 jobseekers chasing every post in some parts of London, a study has revealed.
Research by the Trades Union Congress (TUC) found that the average number of jobseekers per vacancy is nine, compared with a UK-wide figure of six.
But it found huge differences across London, with those living in the eastern half finding it much harder to get a job than in the west.
The Department for Work and Pensions has insisted that jobs are available.
The TUC study found that the number of people for every job varied from 25 in Waltham Forest and 22 in Hackney to three in Kingston upon Thames and Westminster.
'Employment blackspots'
About half of London's 33 boroughs have seen an increase in the number of jobseekers per vacancy in the past year, according to the research.
TUC General Secretary Brendan Barber said: "Ministers claim there are plenty of jobs out there, but with more than 20 jobseekers chasing each vacancy in parts of the capital, there are terrible employment blackspots that cause huge economic and social damage to local areas."
A spokesman for the Department for Work and Pensions said the latest figures showed there were 100,000 more people in work now in London than in May 2010.
He continued: "There are jobs available and the Work Programme will give people the tailored support they need to get back into work."