Home Secretary 'delays' new Met commissioner announcement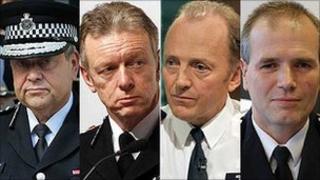 Home Secretary Theresa May has told the Home Affairs Select Committee the announcement of the new Metropolitan Police commissioner may not happen on Monday.
Earlier this week, the Mayor of London Boris Johnson told MPs it would.
But Mrs May has told MPs she and Mr Johnson will be interviewing the candidates then.
The candidates have already been interviewed by members of the Metropolitan Police Authority.
The vacancy has arisen after the resignation of Sir Paul Stephenson.
He resigned from the post in July amid revelations about the Met's links with News International.
He has since been cleared of any wrongdoing.
Candidates for the post include current acting Met Police Commissioner Tim Godwin, Strathclyde Police chief Stephen House, former Merseyside Police head Bernard Hogan-Howe and head of the Association of Chief Police Officers Sir Hugh Orde.
The home secretary said: "I will be interviewing candidates with the mayor of London, and discussing those candidates with the mayor, and I have also received views from the Metropolitan Police Authority.
"We will be interviewing candidates on Monday, whether we'll be able to make an announcement on Monday will depend on practicalities ... we cannot make an announcement until a decision has formally been taken by Her Majesty The Queen.
"The timing of the announcement is not entirely within the Home Office's decision."
She added: "I am not saying it won't be Monday, I am just cautioning the committee."