London riots: Golden broom award for 'Brave Brenda'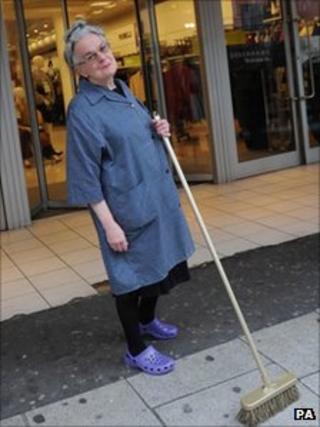 A pensioner who helped to defend and clean up a south London department store during the riots has been given a golden broom for her bravery.
"Brenda", who does not wish to reveal her full name, got off her bus and tried to help when Debenhams in Clapham Junction was ransacked on 8 August.
The pensioner, from Battersea, south London, was cheered by staff at the store when she received the award.
Brenda also helped to clean up the store, which opened three days later.
"Brave Brenda", as she has been nicknamed by the local community, said: "I got off the bus at Clapham Junction to look at the shops and the riots were already brewing."
When rioters began attacking a newstand outside the store, Brenda started picking the newspapers off the street.
She said: "You do not stop to think in these circumstances. I saw rioters smashing up windows."
The next day, Brenda returned to the store to offer assistance.
Symbol of defiance
Brooms quickly became a symbol of defiance for Londoners helping with the clean-up in the aftermath of the riots.
"The riots have invigorated the community spirit but let's not forget that people are still suffering," said Brenda.
The manager of Debenhams in Clapham Junction, Neil Roberts, said the damage to his store had been "horrendous".
Mr Roberts said: "Humanity was at its lowest on the night of riots but it has been absolutely fantastic since then. Brenda epitomises the people of Battersea."