Exhibition shows seized endangered species products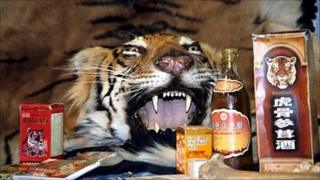 A sperm whale's tooth and a stuffed tiger cub are some of the items on display at an exhibition about London's illegal trade in endangered species.
The show at London Zoo has been organised by Operation Charm, the Metropolitan Police initiative which tackles the problem.
It has helped seize more than 30,000 endangered species items since 1995.
Police say London is a major trading hub contributing to a global illegal industry worth £6bn.
Other products seized by Operation Charm on display at the zoo's Elephant House include a shahtoosh shawl, which is made from the down hair of Tibetan antelope, confiscated from a Mayfair boutique, a crocodile skin handbag seized from a London taxidermist and ivory shaving brushes that had been on sale at a St James's barber.
Destructive trade
Sgt Ian Knox said: "It is a highly destructive trade and if we can help to reduce demand for endangered species products in London, there will be a positive impact in the countries where these animals are hunted.
"We would ask people to be vigilant and let us know if they see any products like those in the exhibition."
Heather Sohl, spokeswoman for World Wildlife Fund in the UK, said: "This exhibition will be a great success if just one report of illegal wildlife trade comes from a visitor to the zoo this month."
The exhibition runs for a month from Monday.