James Dean letters to girlfriend to be auctioned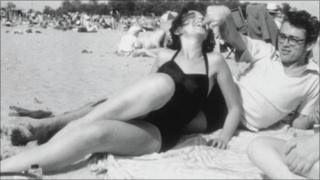 Private letters from Hollywood legend James Dean to his then girlfriend are to be sold at auction.
The handwritten notes to Barbara Glenn, who he dated for two years, come from her family archive and have never been sold before.
The three letters sent in 1954 are to be sold separately but are estimated to fetch a total of £16,000 when they auctioned at Christie's in London.
Dean died in a car accident in 1955 as he was poised for major stardom.
In one letter, dated 10 January 1954, he talks about rehearsals for a Broadway adaptation of The Immoralist, which he said was not very good.
But the letter, sent from the St James Hotel in Philadelphia and illustrated with doodles of buildings, also predicts that the play will "probably be a monster success".
Another letter was sent on 7 May that year, a month into filming his first starring role, in East Of Eden.
The final letter jokingly suggests that the relationship may be over as he tells her: "Darling I haven't written because I have fallen in love."
But he goes on to say that he is referring to his horse "Cisco the kid".
Numerous break-ups
As he outlines how homesick he feels, he thanks her for "the nicest, sweetest letters in the world".
Glenn's son, filmmaker Keith Gordon, who is selling the letters, said: "She never discussed their romance in great detail, but I did know Jimmy was her first serious, grown-up relationship.
"It was apparently very intense and involved numerous break-ups and reconciliations, but she often remained his confidant even during some of them 'off-again' times."
The auction takes place on 23 November and the lots also include a number of photographs of the actor and Glenn.