London Assembly report reveals 20% rise in Tube delays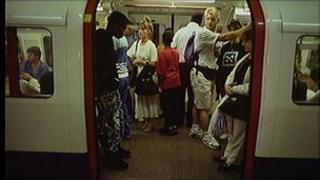 Delays on the London Underground have risen by 20% between 2009/10 and 2010/11, a report has revealed.
The London Assembly study estimated passengers spent an extra 6.5 million hours on the Tube in 2010/11 because of the increased delays.
The main reason for delays on the four worst-performing lines, the Jubilee, Victoria, District and Metropolitan, was said to be equipment failure.
Transport for London (TfL) said actions to improve reliability were in place.
The chair of the assembly's transport committee, Caroline Pidgeon, said the delays were a "drag" on the capital's economy.
'Clearly unacceptable'
The assembly also called on TfL to carry out a review of industrial relations following a series of disruptive strikes over the last year.
Since the Tube upgrade programme began in 2003/04, network delays per year have reduced by 27%, but August 2010-January 2011 saw the longest sustained period of poor performance on the Tube since upgrade work started.
Industrial action accounted for about half of the increase in lost passenger hours between 2009/10 and 2010/11.
Ms Pidgeon said: "This is clearly unacceptable and a drag on London's economy.
"We know delays on the Underground have fallen overall since 2003, but TfL must ensure that last year's 20% dip in performance is a blip - not a disturbing sign of things to come."
Bob Crow, leader of the Rail Maritime and Transport union, said: "The repeated breakdowns and infrastructure failures on the Tube can be blamed fairly and squarely on cuts to maintenance and the expensive failure of privatised upgrade works.
"We have less than a year to sort this crisis before a surge of visitors arrive for the London Olympics."
Mike Brown, managing director of London Underground, said: "The Tube is approaching 150 years old and we are currently undertaking the biggest upgrade in its history - replacing signalling, trains and track to boost capacity and provide passengers with more reliable and more comfortable journeys.
"This can't be achieved overnight and some disruption is inevitable as the work takes place.
"However, Londoners rightly expect reliable journeys, and we are completely focused on making sure that we deliver that."