Former West Ham player denies sexual assault charges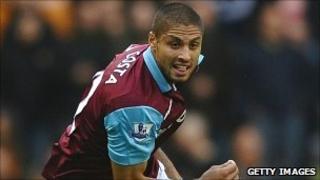 A former West Ham footballer punched a young woman in the face and sexually assaulted her, a court has been told.
Manuel da Costa, 25, told Snaresbrook Crown Court that he admits hitting the woman but he denies sexual assault.
The player, who is now with Lokomotiv Moscow, allegedly grabbed the 21-year-old in Faces nightclub in Gants Hill, Essex on 17 October 2010.
Miss Sonya Saul, prosecuting, told the court the player had "no reason or right to touch her in that way".
A police video interview with the victim was played to court in which she said Mr Da Costa "had a smug look on his face" during the alleged assault.
The woman, who cannot be named for legal reasons, was on a night out with four friends and arrived at the club at 22:30.
As the evening wore on, the woman sat in a booth because her feet were sore, then went to look for her friends.
As she made her way through the club, she said the Portuguese player reached out and grabbed her sexually.
The witness, giving evidence from behind a screen, said she felt "violated" by the assault.
She said Mr Da Costa also grabbed a breast so forcefully that it hurt and left her face "throbbing" after hitting her.
The victim's friends became involved in a row with Mr Da Costa, who she said punched two more women.
Mr Da Costa made no comment during his police interviews, the court heard.
The case continues.