Man stabbed to death in car robbery in Ilford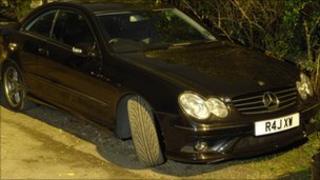 A man was stabbed to death before having his car stolen in east London, police have said.
Harjinder Singh Bhurji, 28, was stabbed in the chest by a masked man in Ilford, who then took his black Mercedes CLK coupe in the early hours of Tuesday.
He had been sitting in the car with a female friend when they were attacked. She was pulled from the car and threatened but not injured.
The car was found abandoned a few hours later in Chingford.
Police said Mr Bhurji, from Ilford, was talking with his friend in the car on Stoneleigh Road when the masked man appeared and pulled the woman out of the vehicle from the passenger side.
Motivated by stealing
He then went to the driver's side and threatened Mr Bhurji with a knife, telling him to handover the keys.
Mr Bhurji hid them under his seat but the suspect threatened to hurt his friend if he did not hand them over.
Before he could retrieve them from under the seat he was stabbed and the knifeman took the keys and sped off in the Mercedes leaving the pair by the road side.
Det Ch Insp Phil Rickells said: "The suspect appears to have been purely motivated by stealing the car because at this early stage we can find no other obvious motive.
"As far as we can tell, the victim did not know the suspect or why he might want his car."
The suspect is described as black, about 6ft 2in tall, of slim build and wearing a grey beanie-style hat, grey hoodie and dark-coloured bandana.
Police are keen to hear from anyone who saw the car, possibly driving at high speed, anywhere between Stoneleigh Road and Forest Glade.