London riots: Fire brigade report criticised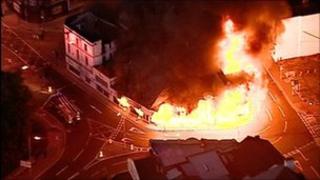 A report by the London Fire Brigade (LFB) which said it had enough resources to cope during the riots has been criticised by a union.
The Fire Brigades Union said crews were understaffed and overworked and only coped because fewer firefighters than normal were sent to tackle each fire.
Buildings and vehicles were set on fire by rioters when trouble flared across the capital last month.
The report showed crews were called to a fire every five minutes on one day.
Firefighters attended at least 807 fires between 6-10 August with the busiest single day being on 9 August when crews went to 263 fires, the report found.
'Toughest ever test'
It forms an initial investigation into the brigade's activities during the civil disturbances which lasted five consecutive days.
The brigade's 999 control staff also saw a high number of calls, handling, on average, one call every 48 seconds four nights in a row.
Between 6-9 August staff handled more than 5,500 calls - the busiest hour for control staff was between 23:00 BST and midnight on 8 August, when they dealt with one call every 11 seconds.
One firefighter suffered cuts to his face when bricks were thrown through a fire engine windscreen, however no other firefighters reported being injured on duty.
Despite the LFB experiencing one of the busiest periods in its history, the report said it had enough fire engines and firefighters to cope.
Chairman of the London Fire and Emergency Planning Authority, Councillor Brian Coleman, said: "During the civil disturbances, the London Fire Brigade faced its toughest ever test but showed itself to be more than up to the job.
"Our staff worked through the most difficult circumstances in order to keep London and Londoners safe.
"Both our firefighters and our 999 control officers deserve immense credit for their hard work during this challenging time."
'Minimum safety standards'
But the Fire Brigades Union (FBU) said during the riots normal professional standards, for example number of fire engines per incident and number of firefighters on a charred hose, were not adhered to.
Ian Leahair, FBU executive council member for London, also said control room staff worked many hours beyond what was safe.
He said: "You are not only failing to adhere to minimum safety standards, you are putting the lives of firefighters at risk.
"They potentially put their lives on the line because of all the short cuts taken by the brigade."
Mr Leahair also criticised LFB for not requesting back-up from surrounding authorities.
He said: "We had the ability to go to neighbouring authorities and request support from their crews, but that request never went out.
"To me it doesn't sound like a brigade that sufficiently coped."