Ilford carjacking death: Four men arrested over murder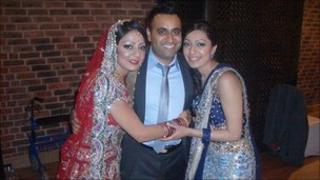 Four men have been arrested on suspicion of murder following the death of a man who was stabbed in a carjacking in east London.
Harjinder Singh Bhurji, 28, was sitting in his vehicle on Stoneleigh Road, Ilford, when he was stabbed in the chest by a masked man on Tuesday.
Three men, who are aged 20, 19 and 17, were arrested on Wednesday morning.
A fourth man, held at the same time, is also alleged to have handled stolen goods in relation to a separate matter.
The age of the fourth suspect has not yet been confirmed by police.
Police said Mr Bhurji, a garage owner from Ilford, had been talking to his passenger in his Mercedes CLK when the masked man appeared, threatened him with a knife and told him to hand over the keys.
Mr Bhurji hid the keys under his seat but the suspect said he would hurt his friend if he did not hand them over.
Before Mr Bhurji was able to retrieve them from under the seat he was stabbed and the knifeman took the keys and sped off in the Mercedes, leaving the pair by the roadside.
The car was found abandoned in nearby Chingford.
Mr Bhurji's best friend, Gurmit Birdi, 32, said the victim's family was "distraught".
"He was a very nice person, he never did anything wrong. He lived his life and enjoyed his life, he was a happy person.
"He was just in the wrong place at the wrong time.
"For his family and friends, this is just unbelievable. I can't even think straight, God knows what his family are going through."
Mr Bhurji was due to be best man at Mr Birdi's wedding in India on 1 November.