Family upset over Ian Tomlinson trial delay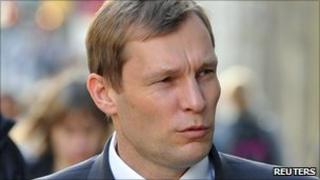 The family of Ian Tomlinson have said they are "devastated" over a delay to the trial of the policeman accused of the newspaper vendor's death.
PC Simon Harwood's manslaughter trial will not take place until October 2012.
Mr Tomlinson, 47, was hit with a baton and pushed to the ground by a police officer in central London on 1 April 2009. He later collapsed and died.
The trial delay is because of existing commitments for legal counsel, the Crown Prosecution service (CPS) said.
Mr Tomlinson's death came amid protests over the G20 summit
The Tomlinson family said the decision to delay the trial was a "disgrace".
PC Harwood, 44, of Carshalton, south London, had been due to appear at the Old Bailey on 17 October. The 2012 trial is to be held at Southwark Crown Court.
Mr Tomlinson's widow, Julia, said: "This is a disgrace and we all feel devastated.
"When the CPS told us in May this year that they intended to prosecute, the impression was that it would be scheduled for this year as there had already been a long wait and they recognised how agonising that was for us.
"We have already waited two-and-a-half long years already and our lives are on hold in the meantime.
"If there are problems with the proposed barristers' availability, why can't others be appointed? This makes a mockery of the justice system."