Architectural gems open to public as part of Open House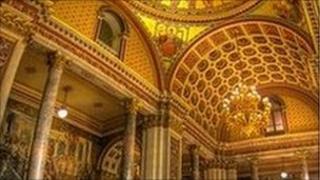 Hundreds of the capital's architectural gems have opened to the public this weekend as part of Open House London.
Nearly 800 buildings, including the Foreign Office and the BT Tower are open for viewing on Saturday and Sunday.
The annual event is being held to celebrate good design and the ongoing transformation of London.
It will include neighbourhood walks, cycle tours and talks by architects.
The theme for this year's Open House London is "The Liveable City" - which aims to encourage communities to get involved in issues in their local areas, from the design of homes to the role of architects and contemporary design in revitalising neighbourhoods.
Victoria Thornton, Director of Open House said it was an opportunity for Londoners to "get inside London's architecture" and to "see how good design plays an important contributing tole in creating and sustaining a liveable city".