Magna Carta on display at London's Guildhall Art Gallery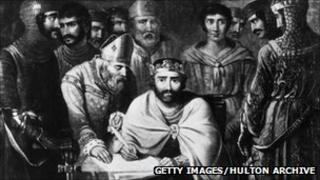 One of the best preserved 13th Century copies of the Magna Carta has gone on display in London.
The document, which dates from 1297, will be on display at the Guildhall Art Gallery until 17:00 BST.
It includes the original writ directed to the Sheriffs of London ordering that the charter be announced within the city.
The original Magna Carta was published in 1215.
The Magna Carta, which is Latin for "great charter", is one of the most famous documents in English history.
An agreement between King John and the barons of England, it was seen at the time as the solution to a political crisis in medieval England.
It guaranteed basic freedoms and property rights to "free men".
The copy on display at the Guildhall belongs to the City of London Corporation.