Tour of Britain road closures cause traffic jams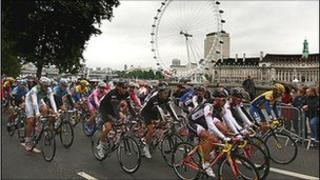 Long traffic jams have been reported in Central London after roads were closed for the final stage of the Tour of Britain cycle race.
Queues formed on the Strand between Waterloo Bridge and the Trafalgar Square junction, with heavy traffic reported on other streets in the area.
The tour route includes Whitehall, Trafalgar Square and the Embankment.
The final stage concludes the eight-day race, which began at Peebles.