London graffiti vandal Zerx causes £1m damage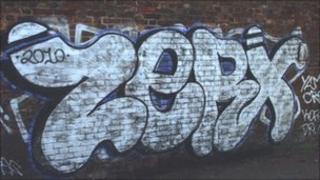 Police in London are hunting a graffiti vandal who has caused more than £1m worth of damage by spray-painting a tag across buildings and the Tube network.
The Zerx tag has been sprayed on houses, schools and the Tube network in boroughs across the capital including Harrow, Brent and Westminster.
The graffiti was also daubed on the Admiralty building in Whitehall during student protests last December.
A 21-year-old man was arrested and bailed over the graffiti in January.
Det Insp Paul Armstrong, of Metropolitan Police, said: "Using this type of graffiti not only looks very unsightly but can also cost councils, London Underground and members of the public a considerable amount of money to remove."
"This tag has been scrawled across residential homes as well as schools, sheltered accommodation and historical structures."
Anyone with information has been urged to contact police.