Mayor Boris Johnson's new initiatives against roadworks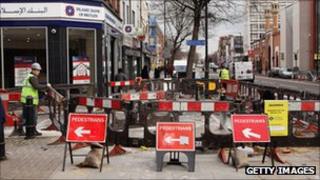 A new series of initiatives against disruptive roadworks has been announced by the Mayor of London, Boris Johnson.
A new online tool has been developed that allows Londoners to spot and report neglected roadworks that will allow public authorities to take swifter action.
A new "roadworks pledge" that outlines minimum standards for work sites was also announced on Wednesday.
The mayor introduced a permit scheme for roadworks in January 2010.
Mr Johnson said: "Roadworks are a massive headache for Londoners, also levying a heavy toll on our economy.
"We are now putting in place better ways to empower Londoners to name and shame those who blight our city with disruptive or badly managed roadworks.
"These reports will be followed-up with swift action by the relevant authority to help unclog roads suffering from unnecessary delays."
The new pledge states that roadworks should be tidy and safe, have clear signage and information for the public, not take up too much space and help as much as possible to keep traffic moving.
People can report roadworks that they feel contravene these guidelines by visiting the Transport for London (TfL) roadworks website.