London 2012: Mobile phone network 'under huge strain'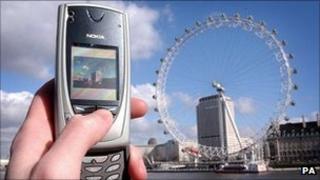 There will be a "massive strain" on London's mobile phone network during the Olympics, the mayor has admitted.
Boris Johnson said there was a risk of overloading and crashing the system as crowds sent pictures and messages and went online at next year's Games.
"A lot of work" was taking place to ensure the network could cope and would not crash, his spokesman added.
Any clogging of the system could cause problems for transport and emergency services, which use it extensively.
The organisers of London 2012 said they were involved in "ongoing" discussions with mobile operators to ensure networks were "as robust as possible" throughout the summer.
And Mr Johnson's spokesman said that with so many additional visitors coming to London, "there will be large numbers of people using mobile data services to keep in touch with family and friends and communicate".
"There is a lot of work going on to ensure that London delivers on this front and the mayor remains confident he will do so," he added.
Recent plans to develop London's telecoms network in time for the Olympics have included its expansion to Tube tunnels.
But the idea, which would let passengers use their mobiles in London Underground tunnels, fell through in April because of a failure to agree over who would pay for it.
At the time, City Hall said it would look instead at ensuring there was "a major expansion of wi-fi coverage in Tube stations" before the Games.