Eid celebrations take place in Trafalgar Square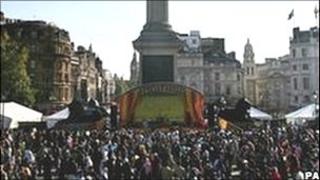 The Muslim festival of Eid ul-Fitr is being celebrated in London's Trafalgar Square.
Hundreds of people were expected at the event which will see performances by artists and guests from Britain and across the world.
Eid-ul-Fitr is the Islamic holiday that marks the end of Ramadan.
Mayor Boris Johnson has used the event to ask the Muslim community to get involved with his volunteering project for the capital called Team London.
He said: "At this joyous time, I am reminded again about the teachings of Ramadan which encourage empathy for those who are less fortunate; charity, generosity, compassion, community spirit, strong family and societal ties and helping the needy.
"With this in mind, I believe it is the perfect time for Muslim communities in London to think about getting involved in Team London".
He said it was a "vision to get more people volunteering in the capital to help tackle some of the city's social issues"
The annual free event is open to everyone and runs until 18:00.