'Sombre' memorial for Neasden fire death girls at school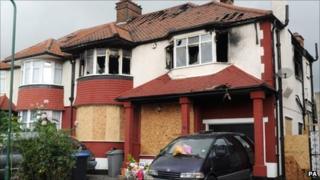 About 900 school pupils have been remembering two "caring and diligent" sisters killed in a fire in north-west London with their mother and siblings.
Sisters Hanin Kua, 14, and Basma, 13, who were students of Crest Girls' Academy, were killed in the fire at their home in Neasden, on Saturday.
Mother Muna Elmufatish, 41, sister Amal, nine, and brothers Mustafa and Yehya, five and two, were also killed.
All six died of inhaling fire fumes, post-mortem examinations found.
Fire officers said they were still investigating the cause of the blaze, but said a Beko fridge found at the home was not a part of the inquiry.
Tributes were also left outside the family's house.
'Role models'
The father of the children, Bassam Kua, 51, and the oldest child, 16-year-old Nur, who was a former pupil at the same school as her sisters, survived the fire.
Mr Hua is in a stable condition. His teenage daughter is in a critical but stable condition.
At the special assembly on Monday morning Bev Bell, principal of of Crest Girls' Academy, said: "The girls were well known, loved and respected by you all.
"We are so proud to have experienced their contribution to our lives within this academy."
Mrs Bell said the silence through the ceremony was such that "you could hear a pin drop". Many others sat in silence in a memorial garden.
Describing Hanin and Basma as "bright and intelligent" girls who were "role models" for their peers, Mrs Bell added: "The whole community is very quiet and sombre at the moment.
"It has hit them very, very hard indeed.
"There is a huge sense of loss felt by the whole school.
"One girl had just started the Duke of Edinburgh's Award and the other had just started in a debating society," she said.
An imam was present at the assembly during which an anonymously written poem about the loss of a child was read as a tribute to Hanin and Basma.
A spokesman for the school said some students who were "very upset" were being offered counselling at the school by a children's bereavement agency.
During the ceremony Mrs Bell also remembered the three younger children, who were students of Braintcroft Primary School.
Nur, the injured girl, was a Year 11 student at the school until July.
'No stone unturned'
"She was very high achieving and was in the top 10% of performance in the school," Mrs Bell said.
About 30 firefighters fought the fire for two hours in the early hours of Saturday.
Officials said investigators were "leaving no stone unturned in their efforts to establish the cause of the fire".
A statement from the fire service added: "At this stage, the London Fire Brigade is able to confirm that a Beko fridge freezer was at the scene of the fire. However, this is not forming part of the fire investigation at this time."
In July LFB warned that up to 500,000 fridge freezers could pose a fire risk after the brigade found that a fire at a tower block in Bermondsey, south-east London, was caused by a faulty Beko fridge.
An inquest into the deaths will open on Tuesday at 09:00 BST at Barnet Coroner's Court.