High speed rail link 'threatens' Hillingdon centre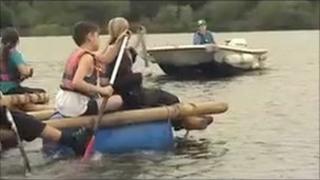 A west London activities centre used by about 20,000 children a year "could close" if a London to Birmingham rail link goes ahead, campaigners said.
Hillingdon Outdoor Activities Centre said plans for the link, known as High Speed 2 (HS2), include building a 13m high viaduct through the centre.
There was "no alternative" to the centre in the area, a supporter said.
HS2 said it would meet centre representatives to look at "minimising any effects" if the link is approved.
The Department for Transport says the rail link will cut journey times between Euston and Birmingham by half an hour, boosting business and creating jobs.
'More research'
The Hillingdon Outdoor Activities Centre (HOAC), established in 1969, has a 45-acre lake and provides water sports and land-based activities.
Jeff Creak, principal of HOAC, said: "The current proposals for the line are that it (the viaduct) runs diagonally across the centre and across the lake which means that we would have a 13m viaduct here... Creating jobs is a great idea but not at the expense of the environment, the economy and this sort of environment where thousands of young people benefit from the facilities provided here."
Phillipa Crick, a teacher at St Margaret's School in Bushey, said: "If they lose this then schools like ourselves will find it very difficult to find an area where we can do this sort of team-working skills, which includes water and the high ropes."
A spokesman for HS2 said: "If the government gives the go ahead at the end of the year we would meet with HOAC to look at ways of minimising any effects of the proposed new line.
"We understand the concern about the possible impact of HS2 on HOAC and have met with the centre to discuss the proposals.
"A lot more research needs to be done before any construction could begin."
The government is consulting people about the plans and a decision is expected by the end of the year.