Bushy Park rutting stag attack caught on camera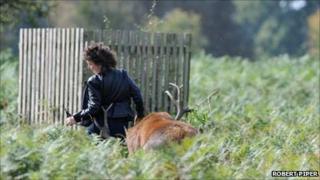 A photographer has captured the moment a woman was attacked by a rutting stag in a Royal Park in south-west London.
The unidentified woman was in Bushy Park last Friday watching the stags compete as part of the breeding season when she was charged.
Photographer Robert Piper, who managed to distract the stag, said the woman seemed terrified by the attack.
The incident has prompted London's Royal Parks to issue a warning about the dangers of rutting stags.
Mr Piper said: "The stags were rutting and bellowing. I saw the stag charging the woman.
"She fell to the ground. The stag went at her again.
"Fortunately, the lady had the presence of mind to get to her feet.
"She got up again and ran as the stag continued to charge. She managed to get around the tree. There was more or less a stand-off.
"She seemed really terrified. If she had moved he would have attacked her again."
The sports photographer, who often goes to the park to sharpen up his photo skills, added: "I distracted the stag by waving my arms.
"While he turned towards me I gestured to the lady to turn back."
The attack was is the third reported in recent weeks.
According to Royal Parks, the stag breeding season runs from September until November.
During that period, which is also known as "the rut", red stags and fallow bucks compete for females.
A Royal Parks spokeswoman said: "We are aware of the incidents and are investigating the circumstances.
"It's important to remind park visitors that deer are wild animals and must be treated with caution.
"It's dangerous to approach the deer at any time of year, but especially between September and November when the males are rutting.
"Signs throughout the park warn that caution is necessary."