Muggers using 'Boris bikes' as getaway vehicles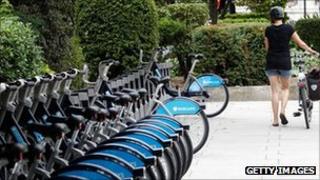 Some gangs have been using the London mayor's flagship transport scheme - the hire bikes - to help mug people.
Using the Freedom of Information Act, we've found there have been three recorded crimes so far involving hire bikes this summer.
OK, so it's not exactly a crimewave, but it does raise some interesting questions.
If you're going to mug people, aren't you going to be traceable if you use the hire bikes?
Or, are the bikes themselves stolen? And why would you use a hire bike - they're certainly not made for speed?
The first robbery happened on 5 May at about 18:35 BST near Hamilton Court in Westminster when a 15-year-old was approached by six teenagers all on hire bikes. They stole his Blackberry, his wallet containing £10, an Oyster card and a library card.
A 16-year-old was arrested nearby a short time later and charged with robbery. He appeared at West London Youth Court, pleaded guilty and was given a six-month referral order.
A second incident occurred along Shaftsbury Avenue, WC2, (near Leicester Square), on 14 July at 22:30 BST when a 23-year-old woman had her mobile phone stolen as she was using it while walking along the road. The suspect rode off on his hire bike after the mugging.
The third robbery happened at 19:00 BST on 14 July near Hyde Park.
A 13-year-old boy walking down Edgware Road with a friend was approached by four or five 15-year-old boys on hire bikes. They stole his phone.
The impression is these are opportunistic thieves and it serves as a reminder to keep your mobile phone hidden from sight while out and about in the capital.
Will City Hall be blushing over these crimes?