Ponders End Recreation Ground to undergo £1m revamp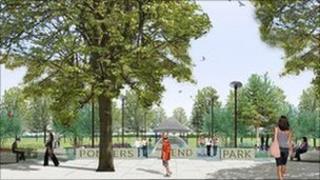 A recreation ground in north London is to undergo a £1m facelift to improve safety and accessibility.
Work to transform Ponders End Recreation Ground in Enfield is due to begin on Monday.
A fountain will be built once the toilets and railings are removed from the front of the park and a new cycleway is to be installed.
Leroy James, aged 14, was stabbed to death in the park in August. A 14-year-old boy has been charged with murder.
Enfield Council is spending £997,000 on revamping the green space which will be renamed Ponders End Park once completed.
Community events
As part of an extensive tree-planting programme there will be white cherry trees planted around the bandstand, a "peace tree", a permanent Christmas tree that will be strung with lights every year and an avenue of trees from different countries.
A cycleway will be installed between Ponders End High Street and South Street and new entrances created on the eastern side of the park to improve access for residents living on the Alma Estate.
New lighting is to be installed to improve safety as well as pop-up power sockets so markets and events can be staged.
Planting aimed at reducing maintenance costs will also be carried out.
Councillor Chris Bond said: "Working with local residents, the park is a wonderful example of what good teamwork is all about.
"It will be a focal point for the community being able now to have local events that the community want."