Body in suitcase killer Youssef Wahid jailed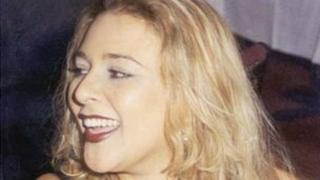 A man who killed a singer and left her body in a suitcase at Heathrow Airport has been jailed for at least 24 years.
Youssef Wahid attacked Fatima Kama, 28, at her brother's flat on Edgware Road, when she was visiting London in 1999.
Wahid, 42, took the Heathrow Express and dumped the suitcase in a car park at the airport, the Old Bailey heard.
The former air steward, who fled to Beirut, was extradited to the UK last year. He was jailed after being convicted of murder in August.
Throat slashed
Judge Paul Worsley told Wahid: "You are an intelligent but devious and manipulative man.
"There is indication of significant physical suffering before her death.
"You callously concealed her body in a suitcase."
Miss Kama was repeatedly stabbed and had her throat slashed.
But before the aspiring cabaret singer's body was found on a trolley, Wahid had left the country.
Adrian Darbishire, prosecuting, said despite that Wahid could not escape "the long arm of Scotland Yard".
'Neither rich nor attractive'
He was eventually found in Bahrain before his extradition back to the UK.
The court had been told Miss Kama lived her life "like Holly Golightly", the fun-loving Audrey Hepburn character in the 1961 Breakfast at Tiffany's film.
Mr Darbishire said: "She was a vivacious and attractive young woman who had a number of rich admirers."
But Wahid on the other hand, was "neither rich or attractive to Fatima Kama", he added.
Wahid refused to go into court before the end of the prosecution case, and turned down legal representation.
He mistakenly believed this would cause the trial to be aborted, the court heard.
Det Ch Insp John McFarlane, who led the investigation, said: "This was a callous and shocking murder which left a family grieving the loss of a beloved daughter.
"Wahid spent 12 years evading police and refused to face up to what he had done, I am pleased that Fatima's family have finally got justice".