Fire at wood recycling site near Heathrow Airport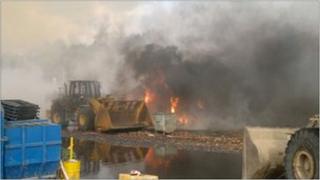 A fire at an industrial plant near Heathrow Airport in which 4,500 tonnes of wood chippings were alight has been brought under control.
Up to 75 firefighters tackled the blaze, reported at 03:40 BST, at the wood recycling plant between Sipson Road and Holloway Lane, West Drayton.
Heathrow Primary School was closed and Sipson Road remains shut between Harmondsworth Lane and Holloway Lane.
Heathrow bosses said the fire did not have any impact on flights.
A spokesman for London Fire Brigade (LFB) said firefighters were likely to remain at the scene for days putting out "deep seated pockets of fire" which could reignite the blaze.
Diggers alight
LFB initially estimated the industrial site contained 50,000 tonnes of wood chippings, but the firm that operates the facility later confirmed it had around 9,000 tonnes of wood on the site.
The fire brigade estimated around half of the wood chippings had been damaged by the blaze.
It advised anyone whose homes were affected by the smoke to stay indoors and keep their doors and windows closed.
Firefighters found two JCB diggers at the scene were also alight and crews had to protect tanks containing 220,000 litres of diesel.
The plant is located between the A4 and M4, just to the north of Heathrow.
An inquiry has begun into the cause of the fire.