Man guilty of killing 67-year-old he met on holiday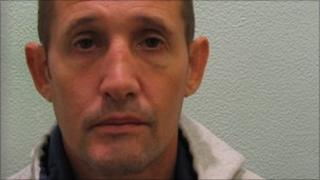 A man has been found guilty of beating to death a 67-year-old man he met on holiday and raiding his bank account.
Stuart Crawford, 45, of no fixed address, withdrew more than £7,000 from Michael Ryan's bank account while staying with him, before killing him.
Mr Ryan's body was found rolled in a rug and pinned under a bookcase at his home in Sutton, south London.
Crawford was convicted of murder at the Old Bailey. He will be sentenced on Wednesday.
'Ruthless and mercenary'
Crawford, who fled to Thailand after the killing in September 2008 and was extradited back to the UK this year, had denied murdering Mr Ryan.
The men had met on holiday earlier in 2008 and Mr Ryan had offered Crawford somewhere to stay.
But soon after moving into the Devonshire Road property, Mr Ryan began to suspect him of taking money from his internet bank account.
Philip Bennetts QC, prosecuting, said: "The killing of Michael Ryan was a ruthless and mercenary killing, the defendant withdrawing a substantial amount of money from his bank account and fleeing to Thailand."
Mr Ryan had been dead for several days when he was discovered and tests showed he died from a blow to the head.