Man jailed for 26 years for murder of holiday friend, 67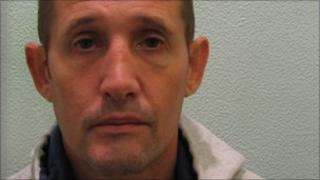 A man has been jailed for at least 26 years for bludgeoning to death a man he befriended on holiday a year earlier.
Stuart Crawford, 45, of no fixed address, then cleared out Michael Ryan's bank accounts of £7,250 and fled to Thailand in September 2008.
Mr Ryan's body was found rolled in a rug and pinned behind a bookcase at his home in Sutton, south London.
Crawford was given a life sentence with a minimum term of 26 years at the Old Bailey for murdering the 67-year-old.
He was extradited from Thailand after trying to sell his story to a newspaper.
He tricked the man's family and friends by using his mobile phone to send fake text messages while waiting for the money transfers to clear.
Kindness 'abused'
The two men had met on holiday in Thailand in 2007 before and Mr Ryan allowed Crawford to move into his spare room a month before the killing because he had fallen on hard times.
Mr Ryan was hit over the head with a hammer or bat at least 12 times.
Crawford had texted from Mr Ryan's mobile that he was well and going away for a few days, the court heard.
But the victim's pregnant daughter Elizabeth Ryan became suspicious the messages were out of character.
She discovered her father's body a week after he was killed.
Miss Ryan said she had spent the evening before his death celebrating her father's birthday with him.
"I had recently discovered that I was pregnant," she said in a statement.
"In the end, I had my scan knowing that my dad's body was in the same hospital in the morgue on the floor below."
Crawford was extradited from Thailand earlier this year after contacting a local paper to offer to sell his story for £20,000. He was found guilty of murder at the Old Bailey on Tuesday.
Judge Stephen Kramer told Crawford: "What you did was callous and despicable.
"Mr Ryan had generously agreed you could stay in the spare room as you were penniless and while you found work.
"You killed the man who had given you a roof over your head. You abused his kindness."